Features




LED panel size:







Input voltage:

Lumen efficiency:

CRI:

LED chip:

Light guide plate:

LED driver:




Power factor:

Frame colour:

CCT:




Dimming:

IP grade:

Lifespan:

Warranty:

Any size you want, we can make it!

(already produced sizes: 3000x300mm, 2000x900mm, 2400x150mm,

800x700mm, 120x100mm, 600x600x600mm, etc)

AC200-240V, 50-60Hz or AC85-265V, 50-60Hz

100lm/W

80 (customized CRI>90 can be available)

Epistar SMD4014 (Epistar SMD2835)

PMMA or PS

brand drivers (Meanwell, Philips, LIFUD, AGT,Greenso, BOKE,etc),


drivers with TUV, CB, ENEC approved, no flicker

0.95, THD<17

While, silver

3000K, 4000K, 5000K, 6000K(customized CCT available, precise

to ±100K)

Triac, 1-10V, DALI,RGB, RGBW, CCT dimming available

IP44

50000 hours

3 years, 5 years
Parameter

Customized Panel Photos
● Triangle LED panel light (CCT dimmable, with 2.4G remote control)
● Features: each angle with no gap, perfect connection, no shadow.

● LED panel light 2000x900mm, biggest size at the market (can make CCT dimmable, RGB, printed photo,etc)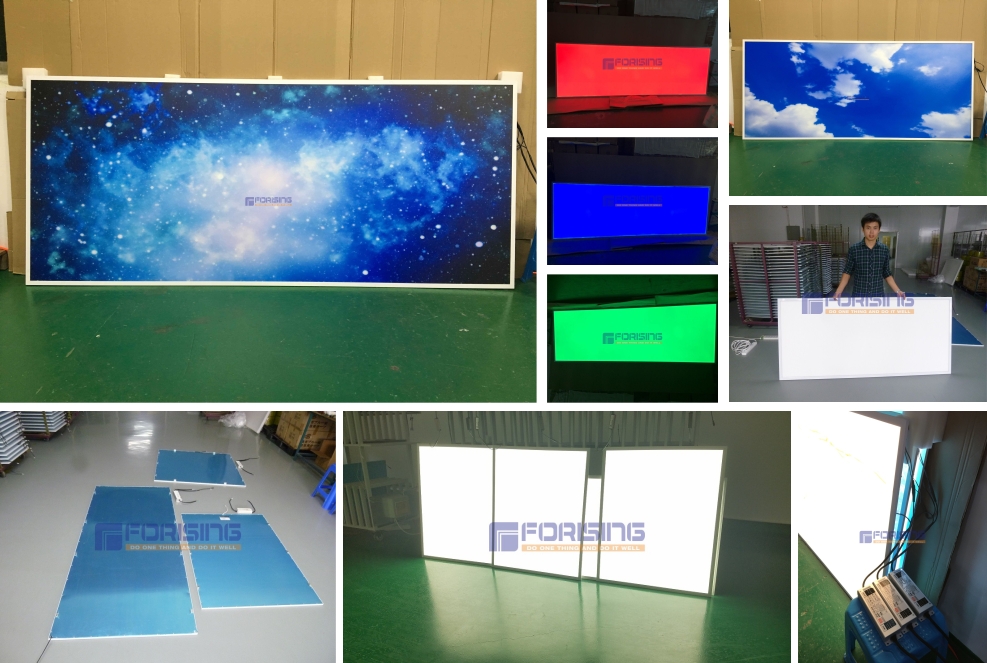 ● Other special size(shape) panels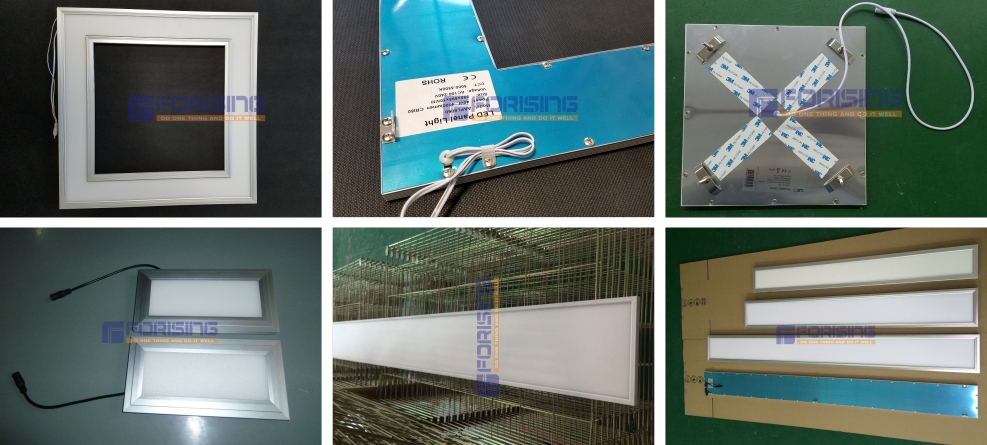 ● Double side bright LED panel light
● 1200x300mm 40W UGR<19, CRI80, no flicker, Germany quality level.
● Any other size can be available too!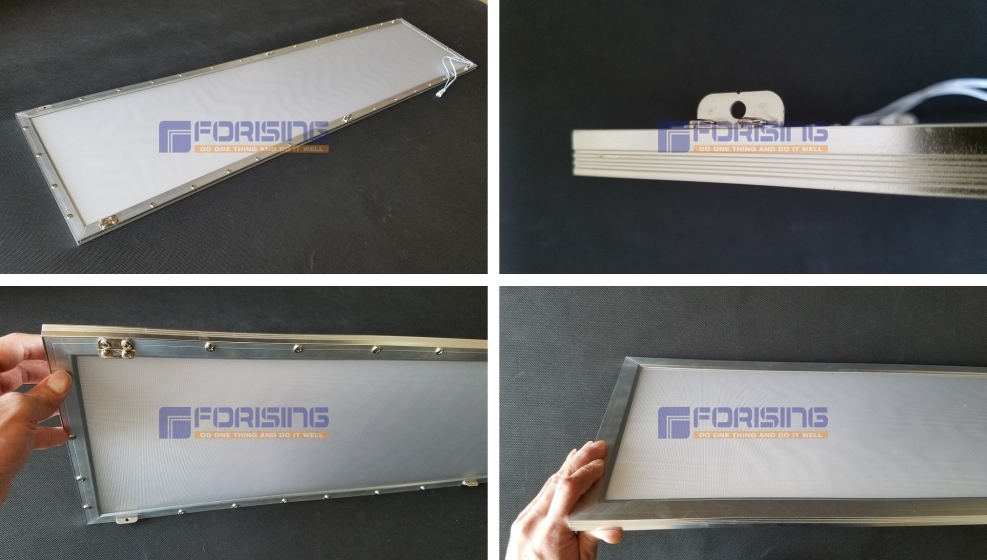 ● Printed photo LED panel light (any photo you send us, we can print on the panel light!)

● Frameless LED panel light (all size can make frameless design)

Installation
1.Recessed installation (no need accessory for LED panel)

Picture 10: Turn LED panel 45 degree against the installation square space;

Picture 11 & 12: Upward the LED Panel for installation;

Picture 13 & 14: Turn LED Panel lighting face downword;

Picture 15: Finished installation;

Remark:

1) For recessed installation, first check the size's fitting for the
panel light and the ceiling space;


2) No accessory for recessed installation;

3) Be sure all "+" and "-" are jointed correctly;

4) Be sure all screws and connects are firmly fixed.
2.Suspended installation
Step 1: Attach hanging strings on led panel lights' body
Picture 16: Take the hanging string;

Picture 17: Screw two nails to connect LED Panel with Hanging string;

Picture 18: Finished all hanging string, small size is four pieces, big size is six pieces;
Step 2: Attach hanging string to Ceiling
Picture 19: Open four φ5mm holes on the ceiling,and put holding parts inside, firmly fixed;

Picture 20: Screw the hanging ends inside;

Picture 21: Finish all screws and hanging the panel;
Picture 22: Connect LED Driver with state grid;

Picture 23: Finished installation and turn on power;






Remark:

1) Be sure all "+" and "-" are jointed correctly;

2) Be sure all screws and connects are firmly fixed.
3.Imbedded installation(spring clips)
Step 1. Cut a hole on the ceiling and the cut-size need according to the actual size of the panel light.

Step 2. Connect cable to panel light correctly ,then press the spring buckle vertical and put the panel into the hole slowly.

Step 3. Reconfirm the cut-size and the cable-connection, then put down the spring buckle and make sure the panel has been fixed stable.

4. Mounted installation
Step 1. Install the mounted steel to the ceiling first, make sure it hold tightly with ceiling, fix well each screws.
Step 2. Put the panel to the steel, make sure each side fix well, then screw it tightly.

Patent design mounted frame( smart design, quick and easy installation, 2 minutes can install one light!)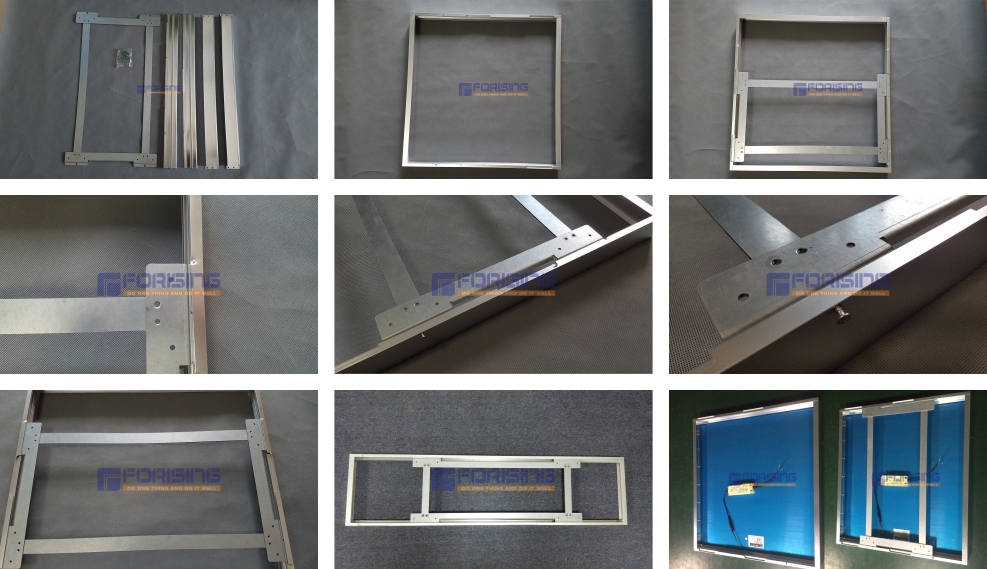 Package Photo